14" Stag Shamanic Drum with Rose Quartz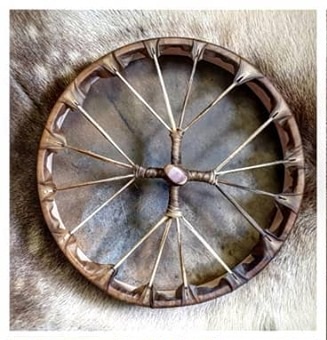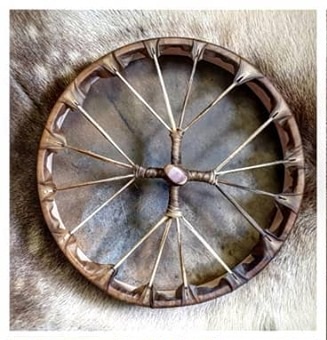 sold out
14" Stag Shamanic Drum with Rose Quartz
14" Stag Shamanic Drum
Birch Hoop
Rose Quartz bound into a Traditional Cross Handle
Listen to a recording of this Shamanic Drum here - use headphones to hear the full range of tones
This beautiful handmade Shamanic drum is made with natural stag hide and traditionally hand cut lacing and made in a mindful way, in ceremony and with an individual blessing. The frame is made of Birch and it has Rose Quartz bound into a traditional cross handle.

The Stag
The stag is a symbol of strength, of standing tall and proud and pushing through adversity with those powerful antlers that carry so much timeless wisdom. Working with the stag medicine, one maintains focus on their goals and plans, and with their head down and driving forward, can overcome all obstacles. .
Sustainability
At Heron Drums, we work with natural materials and animal hides - this way the strength and the spirit of the animal and the tree live on and its heartbeat will take so many on beautiful journeys. All of the hides and hoops for our shamanic drums are ethically and sustainably sourced, meaning that the hides are sourced from wild culled stags, where the hides are otherwise discarded, and the wood for the hoops is from sustainably managed forests.

Included
With your drum, you will also receive a drum beater that has been especially paired with the drum to best bring out its voice. All of our Shamanic Drums come with a two year guarantee.
Want a drum like this?
If you would like a Shamanic Drum like this but slightly different, or if this drum has already sold, you can order a drum to be made to order, specifically to your requirements and birthed with your prayers and intentions. For more detail, see our bespoke shamanic drums.